Adjustable-rate mortgages rose in popularity in the first half of 2022, bringing the share of adjustable-rate mortgage applications to the highest it's been in 15 years.

Housing market conditions and the financial profile of adjustable-rate mortgage borrowers mean that these loans, alone, pose minimal risk of a housing market crash. Today's buyers who apply for ARMs have higher incomes, larger down payments, and are purchasing more expensive homes than the typical loan applicant. 

Black home buyers who recently financed their home purchase with an ARM typically bought less-expensive homes than Black home buyers overall, a reversal from other racial groups.
Adjustable-rate mortgages (ARMs) are becoming more common as home buyers hunt for ways to save money with today's higher mortgage rates. The benefit of using ARMs comes especially when interest rates are high so the benefit of a reduced rate during the introductory period is most pronounced. This largely explains their current boost in popularity. The share of mortgage applications that were for adjustable-rate loans rose to 12.6% in June before dipping slightly to 12.2% in July –  more than double the share in January of this year. Those two months mark the first time ARMs' share of applications has risen above 12% since August 2007. 
However, rather than buyers toeing the affordability line and using ARMs as a means to break into homeownership, borrowers using an adjustable-rate mortgage today are likely to be affluent households with larger down payments. 
What is an ARM?
An adjustable-rate mortgage is a more complicated mortgage product than a classic 30-year fixed-rate loan. With an ARM, the monthly mortgage payment is fixed for a predetermined period of time, typically around five to seven years, and the quoted rate is usually lower than what would be available to the same borrower taking out a 30-year mortgage. Because the interest rate, and thus the mortgage payment, could increase dramatically after the fixed period (or decrease depending on your terms and mortgage market conditions), ARMs are an inherently riskier product. Taking on more of the interest rate risk brings a lower interest rate up front, while the higher rate attached to a 30-year fixed-rate loan (the difference between the two quoted rates is usually around 15-25 basis points) is one cost of simplifying household budgeting by ensuring a fixed payment for three decades.
Determining if that lower introductory rate is worth the risk of higher payments down the road requires more financial introspection. ARMs can be beneficial for households on solid financial footing, but it's important to understand the ins and outs of an ARM loan before taking on that added risk.
Lending practices are much different than in previous decades
The recent rise in popularity for adjustable-rate mortgages may cause some to be reminded of risky lending practices in the runup to the Great Recession. But it is important not to confuse added risk to an individual borrower with risk for the housing market at large, and to understand how the use of ARMs in today's markets differs from non-conventional mortgage products, such as subprime mortgages, offered in the past.
Lending practices have been reformed after hard lessons learned in 2008. Many subprime mortgages offered during that time acted similarly to ARMs in that the monthly payments were initially low, then increased in later years. That is where the similarities end, however. Today, mortgages carry much less risk than they did a couple of decades ago. Increased consumer protections from Dodd-Frank and increased regulations in the secondary mortgage market have led to tighter lending practices. More robust housing demand relative to available inventory has resulted in increased competition for each home, meaning buyers who win a competitive bid are likely to be more financially stable. This has all contributed to a more secure mortgage landscape. 
The median introductory period on originated ARM loans in 2021, according to Home Mortgage Disclosure Act data, was five years, meaning that borrowers have five years until their mortgage rate can change, giving a long lead time for borrowers to sit with their typically more favorable rate before either selling or adjusting to current rates. With home values expected to stay elevated for the long run, the risk of a foreclosure wave like we saw in the 2008 downfall following this surge of ARM loans is low given the strength of buyers' finances and projected long-term home value appreciation.
Recent ARM applicants have higher incomes and put more money down than mortgage applicants overall
ARM borrowers in 2021 (and likely ARM borrowers today) were better positioned financially than buyers overall, let alone ARM borrowers in 2008. In 2021, borrowers of approved ARM loans had higher incomes, larger down payments and bought higher-valued properties than borrowers overall. 
Borrowers who originated an ARM in 2021 had a median household income of $165,000 – $74,000 higher than the median income of all mortgage borrowers. And ARM borrowers typically put down 23.6% on a property with a median value of $565,000, compared to a 10% down payment on a median property valued at $325,000 for borrowers overall. Taken together, ARM borrowers typically had over $100,000 more up front to put toward their home purchase. This signals that borrowers who chose adjustable-rate mortgages were more likely to be affluent households using the more favorable introductory rates of ARMs as a strategy move while prices are skyrocketing, rather than borrowers relying on lower initial payments to simply afford any means of homeownership. 
Like all home purchases, originating an ARM does pose some risks to some borrowers. If home values at these higher price points decline in five years' time and mortgage rates remain elevated, many of these borrowers would likely look to sell — potentially at a loss — if they were unable or unwilling to make the resultantly higher monthly payments. But underlying market dynamics suggest that this scenario remains unlikely. Long run demand for housing should remain elevated as the bulk of the millennial generation continues to age into peak homeownership years. And recent reductions in listing and homebuilder activity indicates the supply of homes is likely to remain constrained in the near future. Combined,  prices look likely to remain elevated, limiting the risks to current ARM borrowers. 
Not all borrowers are currently benefiting from ARMs
While many recent borrowers have benefitted from low mortgage rates and the benefits offered by ARMs, not all mortgage borrowers have been able to reap the rewards. Unlike all other racial groups analyzed, the median property value on approved adjustable-rate loans for Black borrowers was lower than the property value on overall approved loans for Black borrowers, meaning that Black borrowers are staying more risk averse with mortgage products. 
This discrepancy might be rooted in the trauma that many Black homeowners had from the fallout of the 2008 bubble. Homeownership for Black households peaked in Q2 2004 at 49.7% when around 40% of total mortgage applications were for adjustable-rate loans. Many of the loans extended to Black homeowners were adjustable-rate and subprime loans, leading into the foreclosure crisis after the housing bubble burst, which disproportionately impacted Black homeowners. This dealt a devastating blow to Black homeownership rates which have only just begun to recover. HMDA data suggest the Black mortgage borrowers might be understandably hesitant to jump back into the arena with a non-conventional loan given the deep scars left 15 years ago. Black borrowers also have a lot more challenges to overcome to access homeownership, so hesitancy to chance an unstable future with riskier loan products may help explain the discrepancy we see in how adjustable-rate loans are being used across different racial groups. It could also explain why only 2.4% of loans originated to Black borrowers were ARMs last year, compared to 5% of all mortgages originated.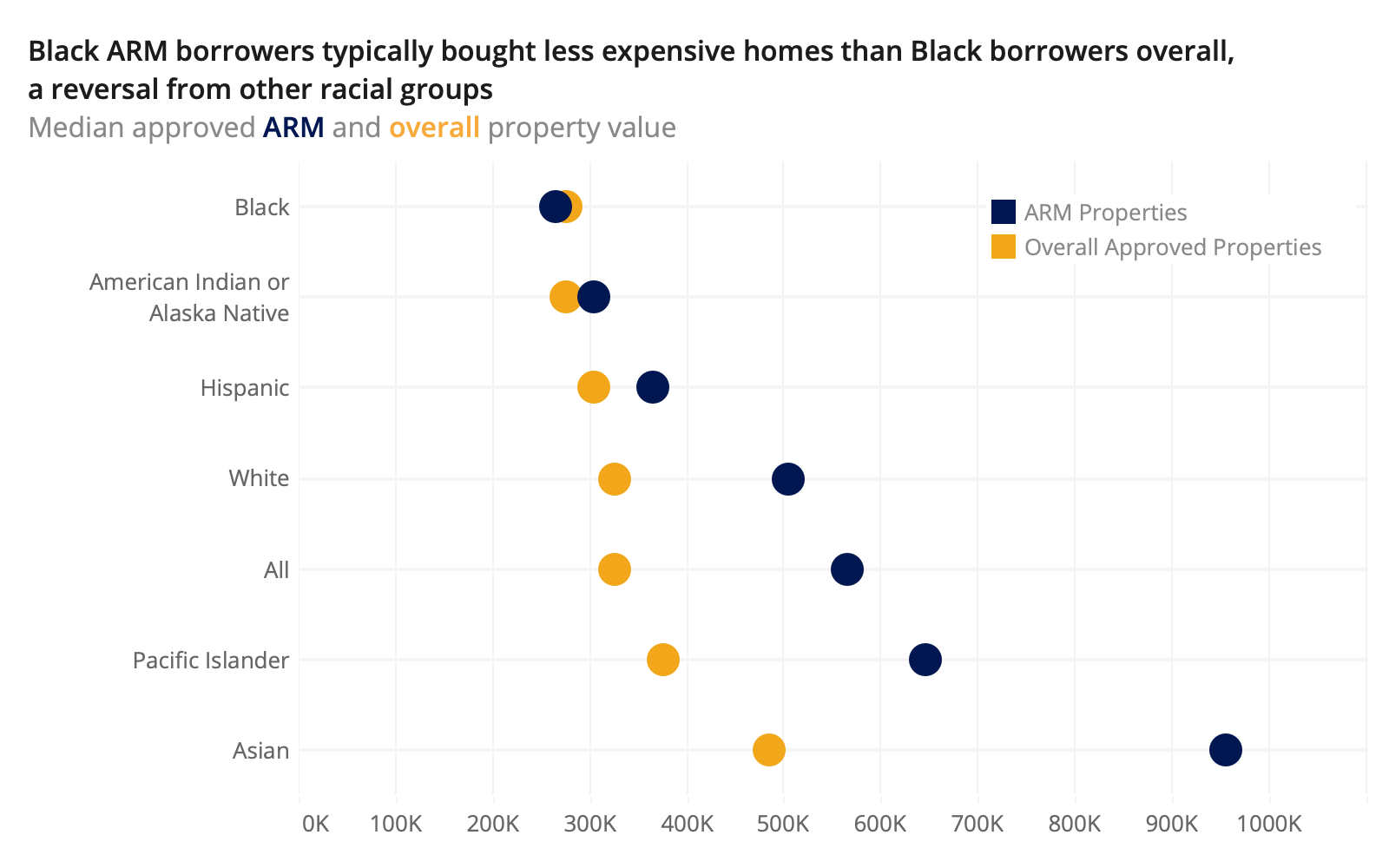 Housing market is cooling off, but the long-term outlook remains strong
An increasing share of ARM loans should not be a cause for concern given housing market conditions and the profile of ARM borrowers. While the housing market is slowing, the risk of prices falling to anywhere near pre-pandemic levels remains low. Borrowers today are also more financially prepared for home buying and the housing market has a stronger outlook than the last time we saw ARMs grow in popularity.