Sturgis Bank is continuing its steady expansion in the region.  After opening two offices in St. Joseph, expanding its Western reach, Sturgis is now growing Eastward with the opening of a loan production office in downtown Marshall in Calhoun County.
In a release, Sturgis said the purchase of 1001 W Michigan Avenue in Marshall will allow Sturgis Bank to add more banking services in the future.  For now, there's new signage on the building, renaming it 'The Marshall Loan Center'.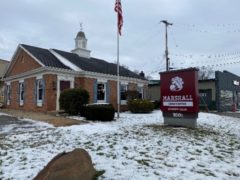 Sturgis Bank leaders commented, "What makes the Marshall Loan Center your "hometown" lending choice? Our team. You're very likely to recognize some familiar faces at Marshall Loan Center. "
Helping to lead the office is Marshall banking veteran Manouk "Mike" Mankerian who has been a mortgage professional for over 35 years. Mike knows what it means to help home buyers realize their dreams.
As a Vice President, Loan Originator at Sturgis Bank, Mike enjoys helping his Calhoun County community grow. Holding to the Sturgis Bank core value of honesty and integrity, Mike strives to create an exceptional experience for his customers through a transparent and professional approach to mortgage lending. Mike is experienced in loan programs including Conventional 1-4 family loans, FHA loans, RD loans, VA, and construction projects.
Mike stays an active member of the Battle Creek Association of Realtors and holds a certification in Mortgage Lending from the Mortgage Bankers Association.
Another familiar face of experience and professionalism at Marshall Loan Center is 27-year lending veteran, Kim Dwyer, Vice President and Loan Originator.
Kim is committed to building relationships based on honesty and integrity, and her knowledge of the financial industry. Kim is a Servant Leader and strives to give back to the communities and clients within the areas she works and lives. She is an active member of Altrusa International of Branch County, Inc, a member of the Branch County Association of Realtors, as well as an instructor for Junior Achievement USA.
Kim is a powerful force in the workplace and uses her positive attitude and tireless energy to create a client for life! Kim is proficient in Conventional, RD, FHA, VA and Construction Lending.
The new Marshall Loan Center is now open,  with services available by appointment only right now.
Sturgis Bank and its subsidiaries Oakleaf Financial Services, Inc., Oak Mortgage, LLC, Oak Insurance Services, LLC, and Oak Title Services, LLC. serve Southwest MI.
For additional information, visit www.sturgis.bank